The page may not load correctly.
Dr.Web Mobile Life

39.99 EUR (The price includes VAT)
Dr.Web Enterprise Security Suite
Dr.Web Anti-virus Service for home
Dr.Web Mobile Life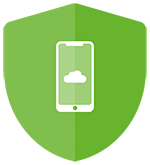 Select
Order price — (The price includes VAT)

! Please note that once payment is made, it takes up to an hour for a Dr.Web subscription to become active.
Protection against all types of malware for Android handhelds (tablets, smartphones)
All Dr.Web for Android protection components
Supports Android 4.4 - 13.0
Attention, customers who bought licenses via Google Play
If you purchased a Dr.Web Security Space Life license on Google Play, please contact our support service to get access to the full version of Dr.Web. Please read this news post.
To be able to download the full version of Dr.Web, specify the details of your purchase on this page. After verifying your order information, if such an order is found, you will be redirected to your personal area of the Dr.Web Anti-virus service. Here, you can download Dr.Web for Android that has a license with no expiration date. You will be able to access 5 links that can be used for 5 devices.
GPA order number.
Email address used to place the order
If you experience difficulties online when exchanging your order for a subscription, please contact our technical support service.
Delivery
After the payment is received, an e-mail with login and password to access your My Dr.Web account where you will be able to download Dr.Web software will be sent to your address.
License agreement
We recommend that prior to purchase, you familiarize yourself with the terms of the license agreement.
Licensing
The Dr.Web Software usage terms are described in the license agreement.
The user has the right to use the Dr.Web Software on 1 device.
Using this license to protect devices other than devices on which the license was registered violates the license agreement's terms and may lead to the license being blocked.

If third parties use the device where the license was registered (including via rentals, sales, trade-ins, etc.), the license will be blocked, without any possibility for the owner to receive compensation from Doctor Web, because such activity violates the software usage terms and the license agreement's terms.

An indefinite license period means that the authorised software usage period is not limited and coincides with the period during which the developer (Doctor Web Ltd., TIN 7714533600) possesses the exclusive right to the Software.
Protected devices — Android devices, support for which is agreed in the rights holder's documentation: https://download.drweb.com/doc.
The subscription period starts as soon as the subscription is activated. Your Dr.Web protection starts working from the moment you install Dr.Web on your device.
Switching to another tariff is not available.
Money paid for the subscription will not be refunded
The Dr.Web Software usage terms are described in the license agreement.
The user has the right to use the Dr.Web Software simultaneously on 1, 2, 3, 4 or 5 devices.
The transfer of the license to another device is allowed, provided that the total number of devices for simultaneous use of Dr.Web Software does not exceed 5 items.
An indefinite license period means that the authorised software usage period is not limited and coincides with the period during which the developer (Doctor Web Ltd., TIN 7714533600) possesses the exclusive right to the Software.
Protected devices — Android devices, support for which is agreed in the rights holder's documentation: https://download.drweb.com/doc.
The subscription period starts as soon as the subscription is activated. Your Dr.Web protection starts working from the moment you install Dr.Web on your device.
Switching to another tariff is not available.
Money paid for the subscription will not be refunded