Your browser is obsolete!
The page may not load correctly.
Dr.Web Enterprise Security Suite
Dr.Web vxCube
Intelligent and interactive cloud-based analyses of suspicious objects
For security researchers and cybercrime investigators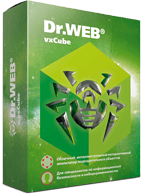 Starting from 200€
Select
Access period: 10 days
Number of files: 100
Access period: 1 month
Number of files: 250
Order price: —

Buy
Description
Is your anti-virus telling you a file is clean, but you have your doubts? Use Dr.Web vxCube to check whether the file is malicious.
In just one minute, you will not only find out whether the file is malicious (and if it is, how harmful it is), but also receive a detailed report that includes a video showing how the file is operating in the system and making modifications to it and what nodes it is connecting to. You will also see its network activity map and more.
License agreement
We recommend that prior to purchase, you familiarize yourself with the terms of the license agreement.
Renewal terms
To continue using Dr.Web vxCube, you will need to purchase a new license. No renewal discounts are available for Dr.Web vxCube.